Happy Monday! There will be an open gym for the 5th & 6th grade boys basketball players from 12:30-2pm today. The 5th & 6th grade girls will practice at 4. All kids will need their own transportation to and from the gym. We look forward to seeing everyone back at school tomorrow!

Attention all 5th/6th grade basketball players, parents & fans: tomorrow's (3/11/23) jamboree has been postponed. We are working on rescheduling the games and will let you know as soon as they are back on the calendar!
The 5th and 6th grade basketball games will begin at 2pm today! Go Bears!!🏀🏀🏀🐻🐻🏀🏀🏀
***Important Box Elder Schools Reminder***. We will have an early release from school Thursday, March 9th, 2023 and will not have school Friday the 10th and Monday the 13th. Enjoy the long weekend!!!

Attention Box Elder Community: (Updated information regarding the upcoming School Board election)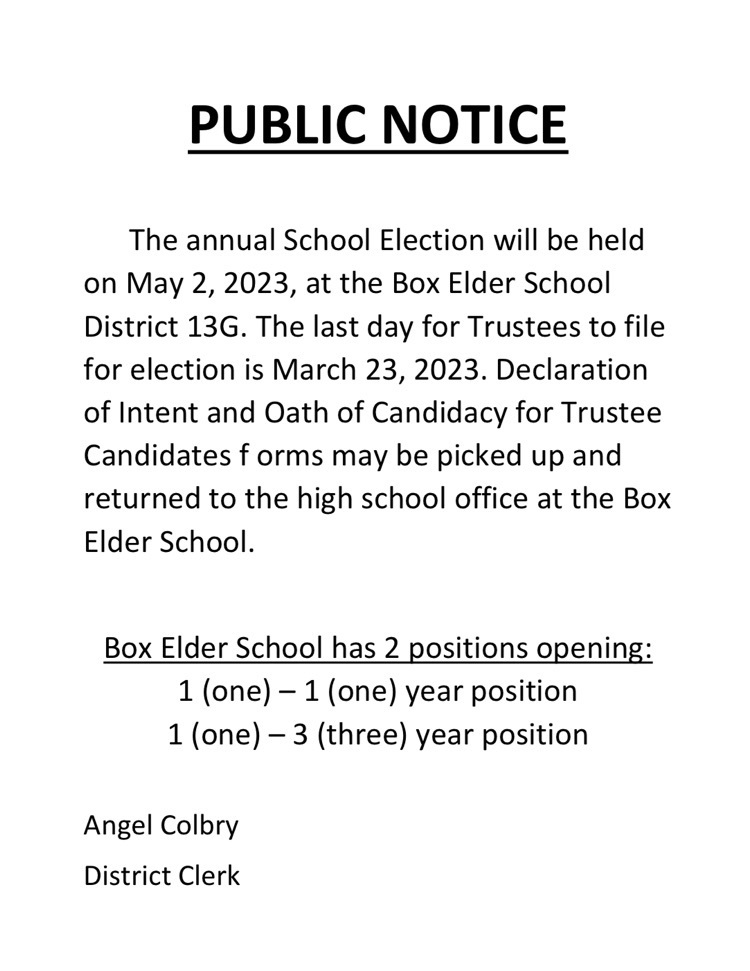 5th & 6th grade basketball has started! Support our Bears this weekend!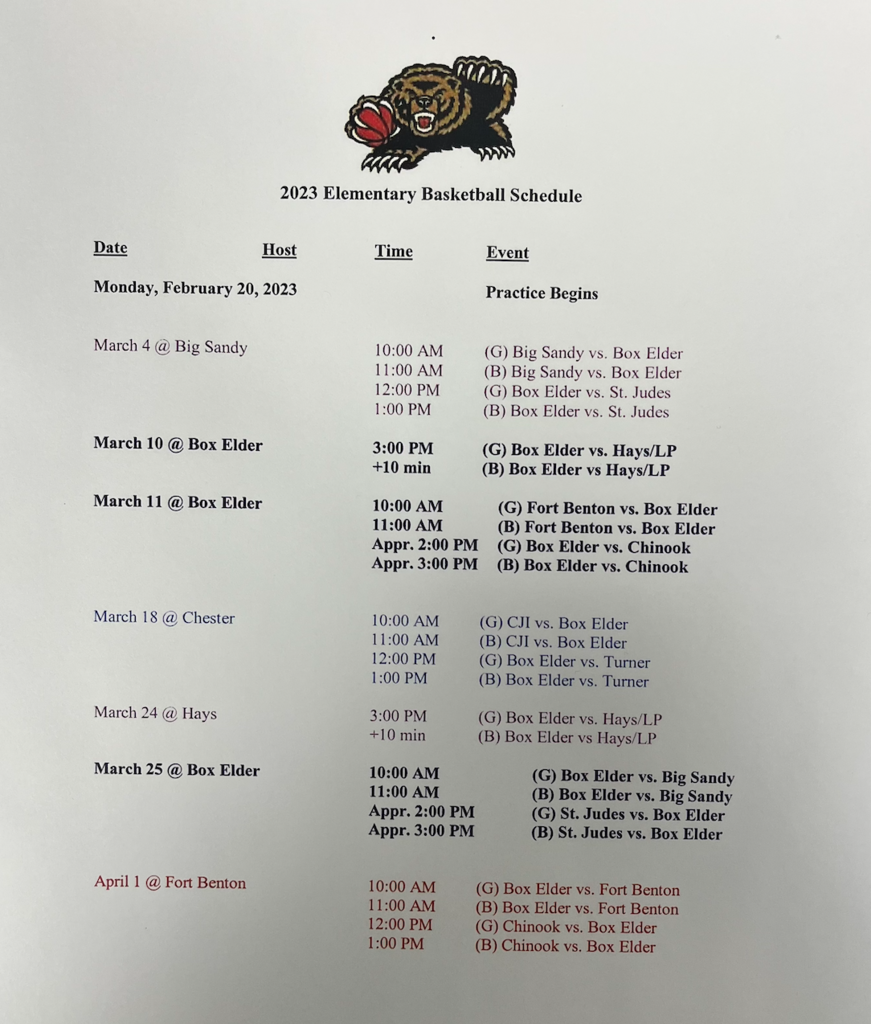 It's Game Day! Come cheer on our Bears at 11am! #GoBearsGo 🏀🐻🏀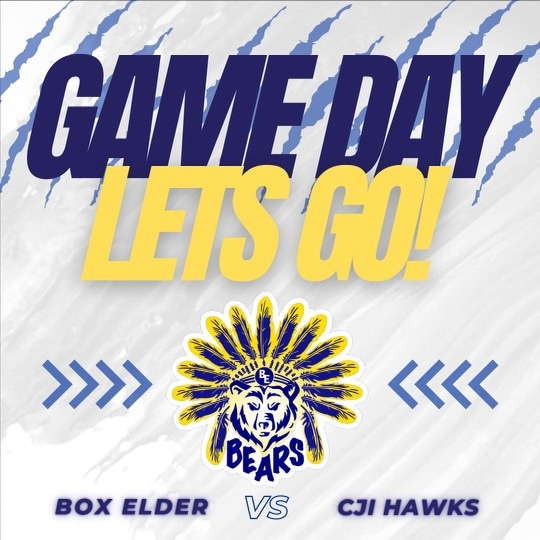 Hard fought battle! Our Bears have heart and a lot of tournament left! #GOBEARSGO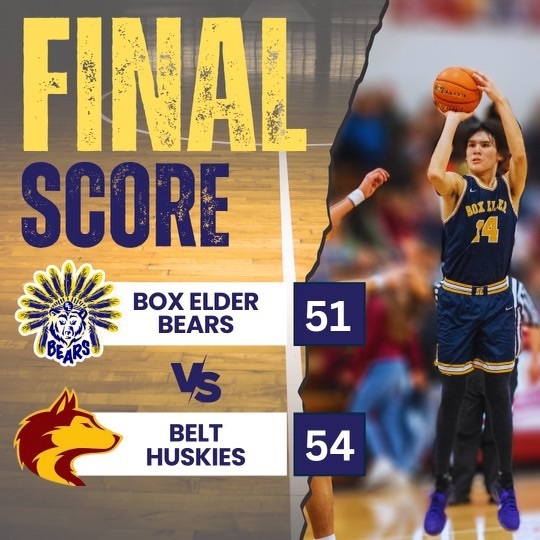 Here we go Bears! #GoBearsGo🐻🏀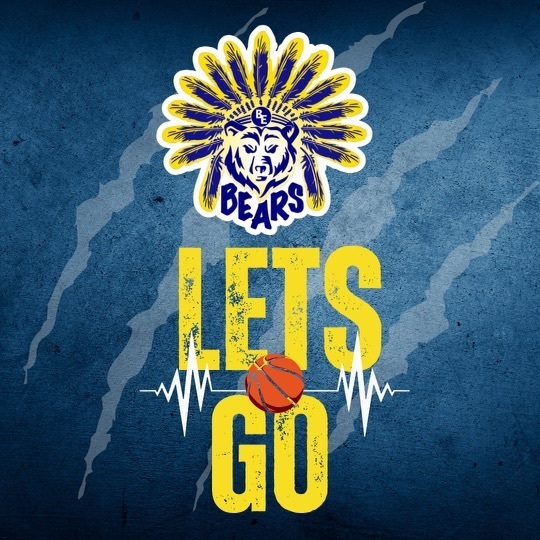 Happy Friday! Game Day for our Bears - tip-off at 7pm! 🐻🏀GO BEARS GO 🏀🐻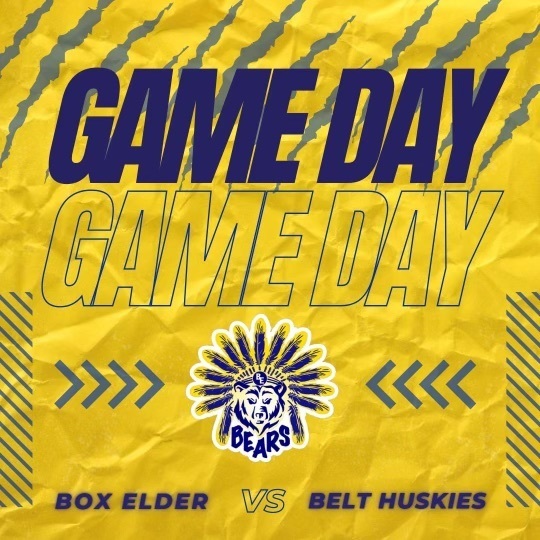 There will be a 1pm dismissal from school tomorrow, FRIDAY, FEBRUARY 24, 2023! Please be sure someone is home for your child(ren) and if you're able to - come cheer on the Bears at the Four Seasons Arena in Great Falls! If not - watch NFHS and cheer from home!

🎉👏WAY TO GO BEARS!👏🎉 Be sure to show your support at our next game tomorrow at 7pm! 🏀🐻🏀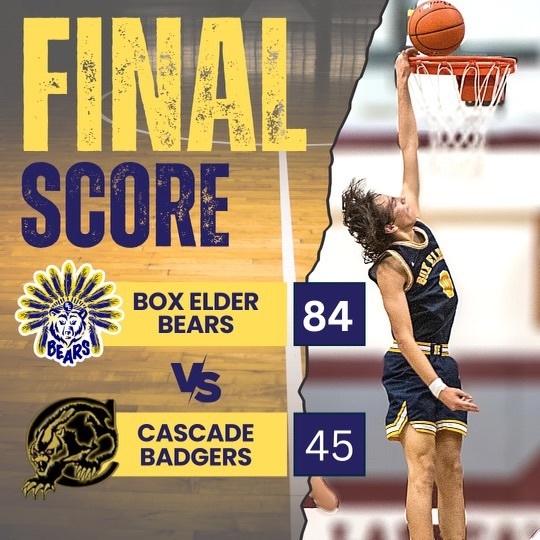 Join us today for a fun-filled send off for our Bears as they head to the Divisional Tournament!

If you can't be there in person, you can keep up with all the Northern C Divisional Tournament games on NFHS! 💙💛🐻💛💙 Go Bears! 💛💙🐻💙💛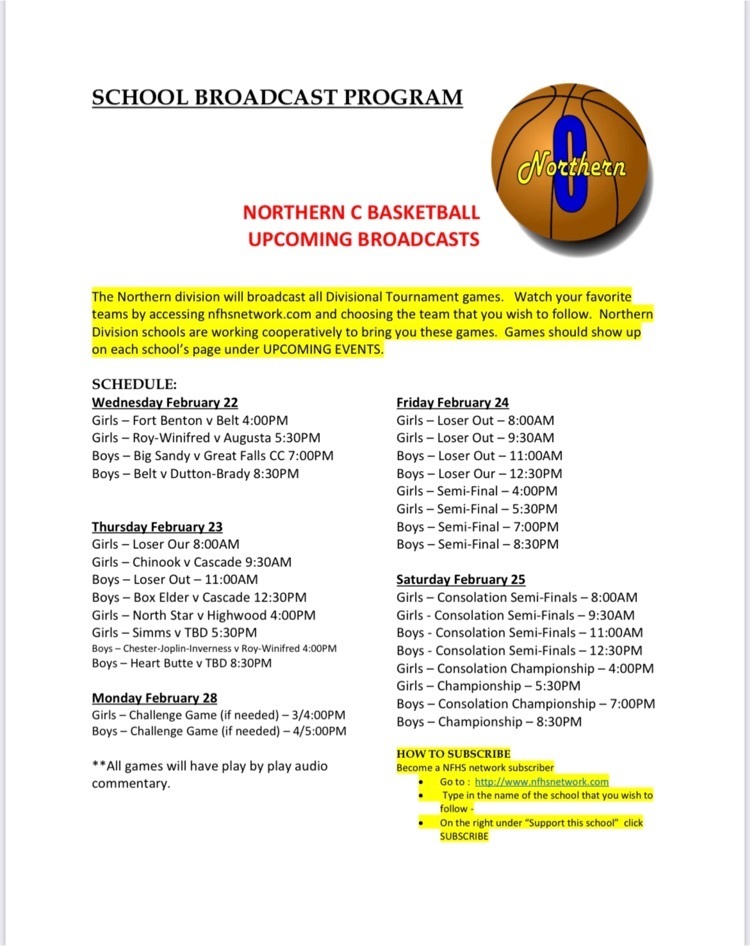 Attention all Parents/Guardians of our 5th & 6th grade Box Elder Basketball players: Practice for the 5th/6th grade basketball season will begin TOMORROW, February 20. We do not have school tomorrow so you will need to drop off and pick up your player for practice. Boys and Girls will practice together from 1:00-2:45pm. Both teams will practice after school on Tuesday and will be able to take the 5:00 bus home.

Northern C Divisional Basketball Tournament Tickets 🎟️ On sale at Box Elder High School Monday - 9am to 12pm Tuesday - 8am to 4pm Wednesday - 8am to 4pm Ticket Prices: Adult All-Session - $35 Student All-Session - $25 Contact Neal Rosette for tickets or more information. 🏀🐻🏀 Go Bears Go ! 🏀🐻🏀

Lil Bears Cheer Camp: Campers need to be here tomorrow, Thursday, February 9th at 5:30. We will dance half time of the girls varsity game! We are asking little bears to wear black leggings and socks. We have shirts and bows for each dancer. Dancers will be picked up in Ms. Raining Bird's room after the performance. Thank you! Come support our little bear cheerleaders!

Weekly Bears Athletics Update: Monday, February 6th HS Basketball @ Havre JV Girls - 4:00pm JV Boys - 5:30pm bus departure @ 2:30pm Thursday, February 9th HS Basketball vs. Harlem JV Girls - 3:00pm JV Boys - 4:30pm Varsity Girls - 6:00pm Varsity Boys - 7:30pm Saturday, February 11th HS Basketball vs Hays/LP **SENIOR NIGHT** 1/2 JV Girls - 1:00pm JV Boys - 2:00pm Senior Night Presentation prior to the Varsity Girls game - approx. 3:30pm Varsity Girls - 3:30pm Varsity Boys - 5:00pm GO BEARS GO!

Your Monday dinner is planned! Come down to Box Elder School from 5:00-7:00 for Bingo, Subway and lots of great prizes to celebrate I❤️To Read Month!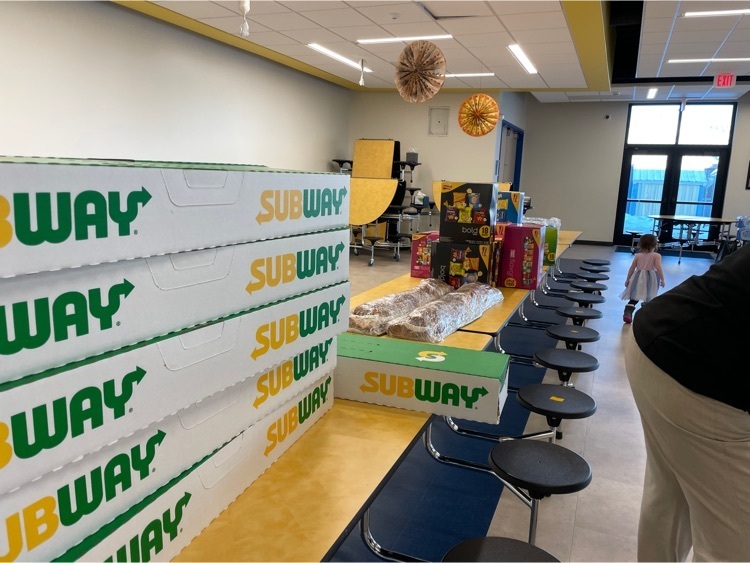 There will be NO after-school activities tomorrow, Thursday, February 2, 2023. Today there is art & games for 4th & 5th graders only. Little Bears Cheer Camp starts today if you have your child signed up!